Meld je aan voor de maandelijkse nieuwsbrief met de laatste vacatures, werktips en duurzame nieuwtjes
Klik hier!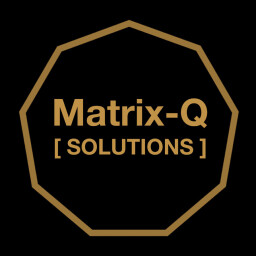 MQ9 [ Matrix-Quotient 9 ] Solutions B.V.
[ START-UP ] R&D, ICT Applications Development (A.I. Smart Apps, e-Games, IoT, SaaS)
Matrix-Q Spin-off with focus: R&D, ICT Applications Development
Data-driven solutions, Big Data, A.I., IoT, e-Games, VR, E-learning, B.I., A.R., SaaS, Quantum-Computing
Next generation social-entrepreneurs bridge the digital-transformation gap with Matrix-Q Methodology
Join to strengthen our multidisciplinary team.
THE COMPANY
A new spin-off of the Matrix-Q Innovation Hub, dedicated toICT Applications Development
services and products,
We are building up a team that will provide our services and products in 2021
We believe in "technology for good"
We have developed an innovative production methodology, algorithms design methodology, A.I. & ICT Applications innovative design principles (system)
It is our intention to enable the means necessary, for the the next generation social-entrepreneurs to bridge the digital-transformation gap
We would like this new team to provide services in all mayor cities in the Netherlands 70% and in Europe (30%). (You may work from home)
We are a gender-inclusive company, 50% women + 50% men team
We are a social-inclusive company: welcome are men and women, immigrants and nationals, PwD, all levels of academic degrees and non academic competences)
We believe in the ability of people to learn and achieve goals, milestones, unleash their potential.
We believe in providing equal opportunities.
FOR WHOM?
You want to help our customers and beneficiaries create a positive impact in nature, societies and economies with innovative cloud-base technology
You would like to develop applications, solutions, with a multidisciplinary team together
You are curious about how to integrate the human-factor into technology innovation (Human inclusive technology, design principles)
You love coding
You are fascinated about one or more of the following items: e-games, IoT, A.I., B.I., Data-driven solutions, Big Data, A.I., IoT, e-Games, VR, E-learning, B.I., A.R., SaaS, Quantum-Computing
You are excited about the idea to participate, enable and maybe also lead multidisciplinary projects
You would like to empower youth, leaders, innovators, consultants, entrepreneurs, impact-agents, impact-investors that would like to create a positive impact in nature, societies and economies.
You are willing to complete a hands-on training program to earn certificates and licenses in innovative methodology
You are willing to complete a training in strategic management, and innovation methodology
You want to inspire people to act and contribute with the acceleration of the process the planet needs to be back to balance.
YOUR EXPERTISE
You belong to at least one of the following skills/knowledge groups.
(You have previously acquired skills, experience or studies in any of the following)
A. Mathematics
B. Coding: Smart Apps, C++, Python, R, Html5, Java Script, MySQL, Others
C. V.R.
D. A.R.
E. Animation, Media
F. Machine Learning, Neural Networks, Artificial Intelligence
G.IoT
H.Quantum Computing
I. Big Data Analysis
J. Data-Driven Smart Applications
K. SaaS Applications Development
L. e-Games programming
M. Cognitive
N. Neuroscience, Cognitive Science,
O. Education
P. Circularity applied to technology
R. COmputer science
GENERAL CONDITIONS
Minimum 18 hours/week, for at least 9 months (necessary for training "Matrix-Q Method" )
Team communication & collaboration skills
Interest or ability to learn from each other (multidisciplinary collaboration within the ICT Team and other Matrix-Q Multidisciplinary Projects)
Capacity to apply the acquired knowledge to think, feel, act, create solutions necessary to address global pressing issues of the present and future
You want to create a positive impact in nature, societies and economies
You want to change the design principles of technology in order to to integrate humans in the applications, instead of displace them
Capacity to work with a multidisciplinary team
Long life learning skills
ELIGIBILITY CONDITIONS
You will need to undergo a trial season (min. 27 days, max, 81 days)
You need to complete a training on the products, methodologies, knowledge, tools, provided by the company
You need to be eligible for certificates and licences (after training completion): Matrix-Q methodology for innovation, ICT content and applications production, A.I. Design and Human Inclusive design principles
You need to score a minimum number of points to be eligible. We use a data-driven gamified, tokenized, hands-on training program, accelerated learning thinking and behaviour change methodology.
After the training you will participate as assistant, to qualify later for the license.
Along your training you will be eligible to wages and income under 4 compensation agreements.
You will need to complete Online (remote) learning combined with group lessons.
YOUR ROLE
After completion of your training, certification and license agreement, you will be assigned to a specific role in the company as (one or more of the following):
Programmer, coding
Analyst, Designer
Content Production
Multidisciplinary Innovation Lab (Prototyping)
Innovator: You will contribute to the development of new methodologies, technology and knowledge
Trainer: You will facilitate experiential, gamified, hands-on education programs
Communication & marketing
Strategic Management & Leadership
Project Management
WHAT IS IN THERE FOR YOU
Join an innovative ecosystem of holistic multidisciplinary innovators and social-entrepreneurs
Receive a complete training program free of charge (data-driven, gamified, tokenized, hands-on training program)
Receive certificates and licenses
Receive training in innovative methodology, tools, multidisciplinary design and production of content and applications
Compensation agreements after completion of trial season
Qualify to become a C-Level, Project-Manager, Assistant or Project Manager for the company.
Free working schedule (You set your schedule)
You can join from any country of the world (We will receive applicants 60% from The Netherlands,, 40% from Europe, 30% International/overseas)
You choose your work modality:

Online (remote) work (you will care for customers online, via remote services platform)
Outdoors work (you will care for innovation project, prototyping and customer carealong outdoor activities)
In-premises work (you will visit the offices of our customers (businesses) to provide services
At-office work (you will provide services at our offices and partner centres)

Work with a multidisciplinary, gender-diverse and multicultural team.
APPLICATION PROCESS
1. Send your CV and intentional letter via the 'Apply now' button below.
2. Schedule an interview ( we will send you a scheduling tool after your application )
3. After the interview we will assess your eligibility
4. You will be scheduled for a micro-casting (online, live, zoom)
5. If eligible, you will join the 27 days challenge