Meld je aan voor de maandelijkse nieuwsbrief met de laatste vacatures, werktips en duurzame nieuwtjes
Klik hier!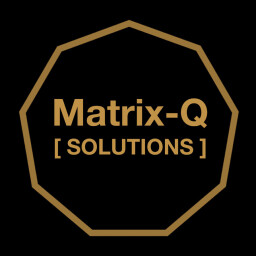 MQ9 [ Matrix-Quotient 9 ] Solutions B.V.
[START-UP] Gender Equality in Professional & Personal Life / Leadership & Change Management
Matrix-Q Spin-off with focus "Gender Equality in Professional & Personal Life / Leadership & Change Management "

Join to strengthen our multidisciplinary team.

THE COMPANY

A new spin-off of the Matrix-Q Innovation Hub, dedicated to gender equality, including methods to help women take advantage of traits that are normally seen by society as "disadvantages".

Our innovative methodology and knowledge help us enable change management process in organizations to prevent gender discrimination, empower women leadership, inclusion, enable gender diversity and collaboration, and enhance team women and collective intelligence, and level-up gender diverse inclusive communication and collaboration.
We are building up a team that will provide our services and products in 2021

We believe in gender equality in work and family life, as enablers of the quality of life that is needed in these unprecedented times

We would like this new team to provide services in all major cities of the Netherlands. (You may work close from home) and also online provide services abroad.

We are a gender-inclusive company, 50% women + 50% men team

We are a social-inclusive company: welcome are men and women, immigrants and nationals, PwD, all levels of academic degrees and non academic competences)

We believe in the ability of people to learn and achieve goals, milestones, unleash their potential.

We believe in providing equal opportunities.
OUR PRODUCT
We will provide gender equity products and services within 3 levels:
A. Digital platform for capacity building assisted by A.I. includes: e-Learning, e-Coaching, e-Training
B. Consultancy
C. Change Management

FOR WHOM?

You want to enable gender equality, women empowerment, gender balance, diversity and equity
You want to change organisations cultures and build up instruments for them to help them prevent gender discrimination, and all other forms of discrimination in the organisation
You want to enable leadership development process for customers that pays attention to gender skills, co-creativity (instead of gender polarity), inclusion, and collective intelligence achieved through the contributions created by both male and female.
You want to help our customers discover new ways to enhance their quality of life, with preventive health methods, and therapeutical activities with focus on: self-reflection, self-awareness, emotions and practical activities.
You would like to combine in your services leisure, enjoyment, health and quality of life.
You are curious to use, test and develop new smart applications assisted by A.I. and/or automatons/robots that will help you diagnose, facilitate and improve your understanding of yourself, your emotions and the mechanisms that effect them.
You can work with your body, emotions, voice. You feel comfortable to be honest with yourself and express yourself daily with journaling tools
You would like to empower leaders, innovators, consultants, entrepreneurs, impact-agents, impact-investors that would like to create a positive impact in nature, societies and economies.
You are willing to complete a hands-on training program to earn certificates and licenses in innovative gender equality and quality of life methodologies, tools and activities.
You are willing to complete a training in strategic management, leadership, and innovation in preventive-health and quality-of-life services and products
You belong to at least one of the following skills/knowledge groups.

(You have previously acquired skills, experience or studies in any of the following)
A. Preventive health

B. Gender Studies

C. Brain Performance Enhancement

E. Out-doors & health-enhancement activities

F. Coaching

G. Training

H. Innovation

I. Life Science
J. Coding,
K. A.I. Machine learning
L. Marketing & Sales
M. Social Inclusion
GENERAL CONDITIONS

Minimum 18 hours/week, for at least 9 months (necessary for training "Matrix-Q Method" )

Team communication & collaboration skills

Interest or ability to cultivate and strengthen own immune system, creating balance and health in own body, emotions, mind, creativity, family, community and nature

Life-Work Balance passion

Happiness at work advocate

Awareness and capacity to utilize both male & female skills

Long life learning skills

ELIGIBILITY CONDITIONS

You will need to undergo a trial season (min. 27 days, max, 81 days)

You need to complete a training on the products, methodologies, tools, therapeutical practices provided by the company

You need to be eligible for certificates and licences (after training completion).

You need to score a minimum number of points to be eligible. We use a data-driven gamified, tokenized, hands-on training program, accelerated learning thinking and behavior change methodology.

After the training you will participate as assistant, to qualify later for the license.

Along your training you will be eligible for a 4 compensation agreements.

You will need to complete Online (remote) learning combined with individual outdoors activities and in-doors group lessons (after covid-19 is solved) organised under personal safety and health regulations.

YOUR ROLE

After completion of your training, certification and license agreement, you will be assigned to a specific role in the company as:

Consultant : You will provide/facilitate gender equality related and emotional & awareness enhancements services to our customers

Manager: You will also lead the company business process, in charge of strategy and entrepreneurial decisions, C-level

Project Manager: You will lead projects (services programs) tailor-made to our customers needs (companies)

Innovator: You will contribute to the development of new methodologies, technology and services.

Ambassador: You will contribute by creating impact-bridges, enabling our services and products for organisations and communities
WHAT IS IN IT FOR YOU

Join an innovative ecosystem of holistic multidisciplinary innovators and social-entrepreneurs

Receive a complete training program free of charge (data-driven, gamified, tokenized, hands-on training program)

Receive certificates and licenses

Receive training in innovative methodology, tools and therapeutical activities, strategic management, leadership and innovation.

Compensation agreements after completion of trial season

Qualify to become a C-Level, Project-Manager, Assistant or Therapist for the company.

Free working schedule (You set your schedule)

You can join from any country of the world (We will receive applicants 60% from The Netherlands,, 40% from Europe, 30% International/overseas)

You choose your work modality:
Online (remote) work (you will care for customers online, via remote health-services platform)

Outdoors work (you will care for customers along outdoor activities)

In-premises work (you will visit the offices of our customers (businesses) to provide services

At-office work (you will provide services at our offices and partner centres)

Work with a multidisciplinary, gender-diverse and multicultural team.

APPLICATION PROCESS

1. Send your CV and intentional letter via the 'Apply now' button below.

2. Schedule an interview

3. After the interview we will assess your eligibility