Meld je aan voor de maandelijkse nieuwsbrief met de laatste vacatures, werktips en duurzame nieuwtjes
Klik hier!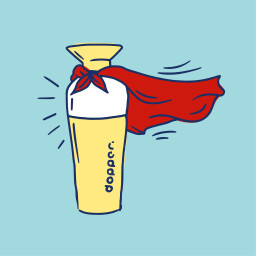 Dopper
Intern Social Media & Community
This is you!
You are passionate about trying to make this world a better place. You already banned single-used plastic before it was even 'a thing' and can't wait to translate this mission into your daily job.
Besides a passion for clean oceans, you also get excited about everything that has to do with online content. Think about managing our social media channels, blogs and newsletters but also concepting about new formats and learning from data.
You love working, but also love enjoying life and taking care of yourself. At a (virtual) party you are enthusiastic and having fun. Perfect; because with the others interns you will be part of our prestigious Dopper Party Squad!
A day in the life of your new dream-internship
You start your day with a good cup of coffee (or tea😉) and a nicely organized project overview. Together with your new ocean-saving teammates you make sure that all our social channels are up-to-date and you communicate with our current and new online community through all these channels.
You are involved with concepting of new successful content, but also know how to manage this into execution. Perhaps you are a very talented writer as well and you can help us with catching social copy.
After lunch, you can take a powernap... or look into some data results of online campaigns. What can we learn? Do better? We need your brainwaves on this!
Finally, you end you day with browsing the internet (is this really a job!?) and coming up with cool new ideas or interesting insights. After this, you will close your laptop with a smile; because YOU saved our oceans!

Are you ready for the deepest dive in your life? This could help you out:
You are a marketing or communications student
You are available at least 5 months, starting in February.
You speak and write fluently in English/Dutch;
You are available 5 days a week (no research thesis).
Finally, curious about your captain?

What's in it for you?
Warning: an internship at Dopper tends to be a lot of fun. During this internship you will have an internship supervisor which will help you develop the right skills to become the even better version of yourself! In this internship you able to set your (personal)goals and make them happen. You can really make a difference. And you will also get an internship salary (stagevergoeding) of € 150,- per month.
Apply!
What are you waiting for? Apply now and we will SEA you soon! Please apply via the 'Apply Now' button below.