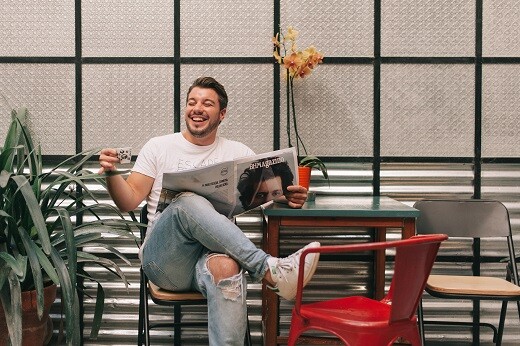 ABOUT GREENJOBS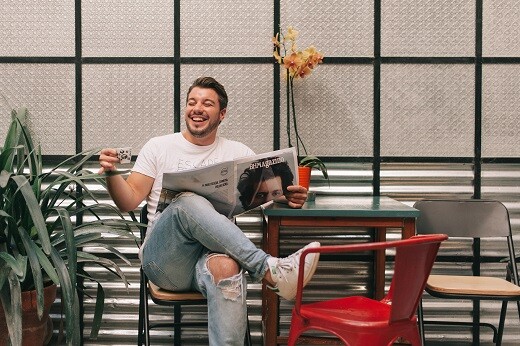 MISSION
It is Greenjobs' main mission to make all Dutch business fully future-proof. Greenjobs is THE platform in the Netherlands for job seekers and employers with a heart for sustainability and society to meet.
This is what we do:
Helping organizations with a sustainable mindset grow. Whether you are working for a large multinational with a sustainable and social vision or just started an innovative, sustainable start-up, Greenjobs helps you to find like-minded professionals. So, if you haven't posted your sustainble job offers on Greenjobs yet, please do it now!
Helping job seekers to find a career with real impact rather than a job that just pays the bill. Greenjobs believes that work can become really interesting and meaningful if it contributes to a better world. This way, we hope to help all employed people in the Netherland to work for a sustainable company! Are you looking for a job in sustainability? Please keep a close eye on the vacancy list, create a job alert or make a vacancy your 'favourite'.
With our job board, we help all employed Dutchies to work in a sustainable job.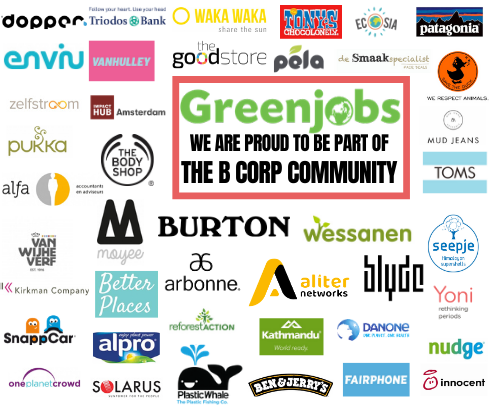 PROUD TO A B CORP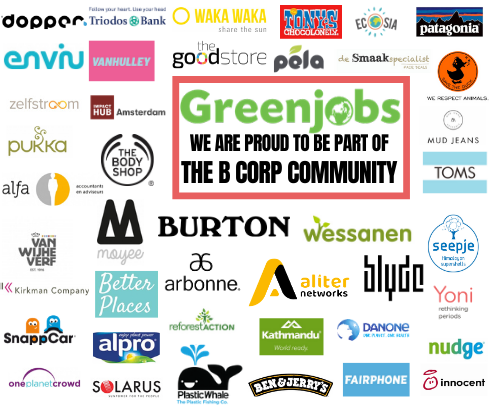 Greenjobs is a Certified B Corp! Therefore, we are part of a global community of companies that use their business for a better future. Together, we are committed to the transition to an economy where goals and profits are in balance and all stakeholders of a company benefit, not just the investors. Using Business as a Force for Good!
The B Corp Certification makes Greenjobs one of the few Dutch companies that meets the highest level of social and environmental standards! To become a B Corp, we had to complete a very comprehensive assessment. This assessment not only measures a certain product or service; it assesses the overall positive impact of the company. We don't just say that we make impact, we really do!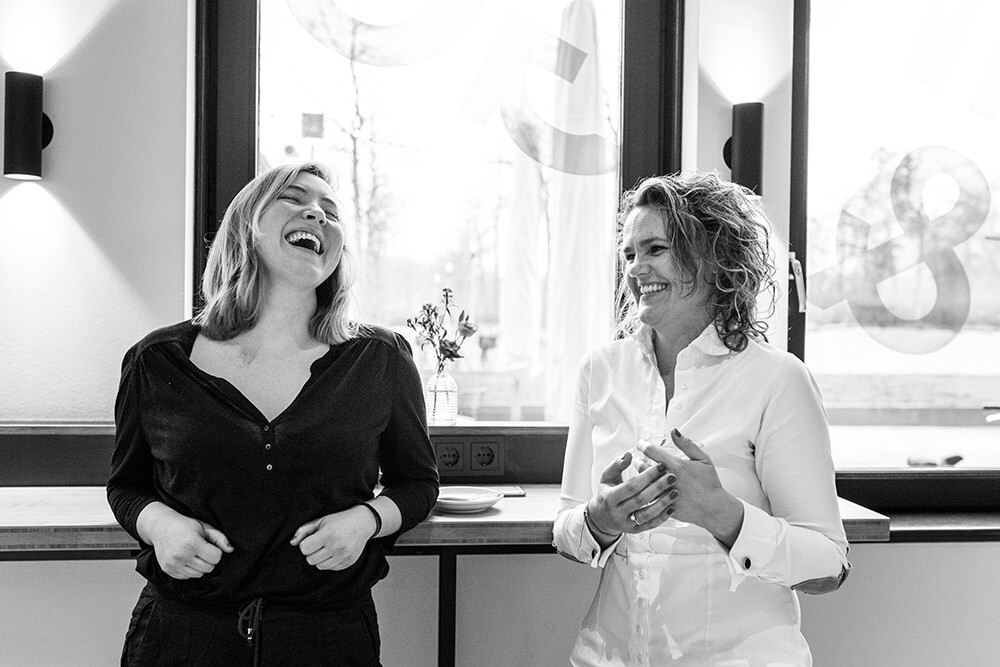 OUR TEAM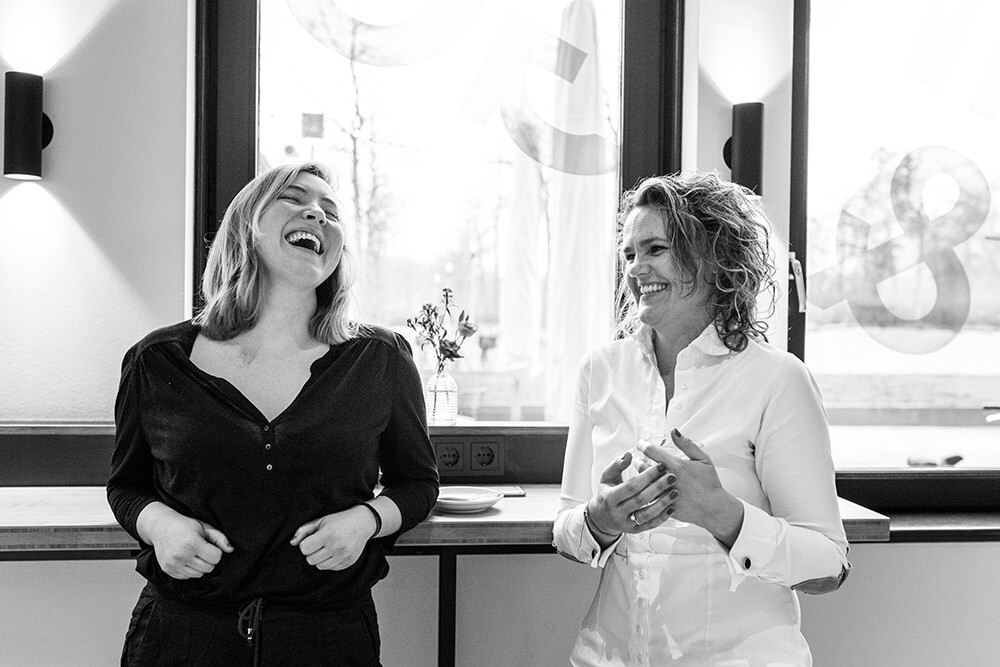 Annemiek Nusmeijer – Owner - LinkedIn - Email
Annemiek has a master's degree in Political Science, International Relations and has learned a lot about sustainability at the Lausanne Business School.

In addition to her involvement with Greenjobs, she is active with The Sustainable Recruiter. A seasoned recruiter with a passion for sustainability and an international mindset. Her dog Mees can often be found in the office and is therefore labeled as an office dog from Greenjobs!
Lisa Verhey – Account Manager - LinkedIn - Email
The last few years, Lisa has developed a personal interest in creating a sustainable lifestyle and it seemed ideal for her to work in the sustainable industry. She is currently taking a Masters in History of International Relations, where she integrates her passion for sustainability. As an account manager at Greenjobs, Lisa hopes to contribute to keeping our planet livable.
Irene Geurtzen - Intern Marketing & Communicatie - LinkedIn - Email
During her internship, Irene helps Greenjobs with everything that has to do with Marketing & Communication to help all job seekers in the Netherlands find a sustainable job!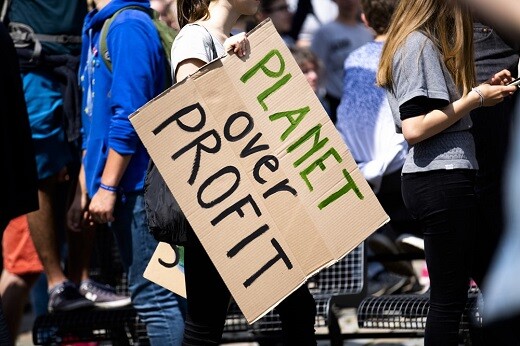 IN NEED OF A (SUSTAINABLE) RECRUITER?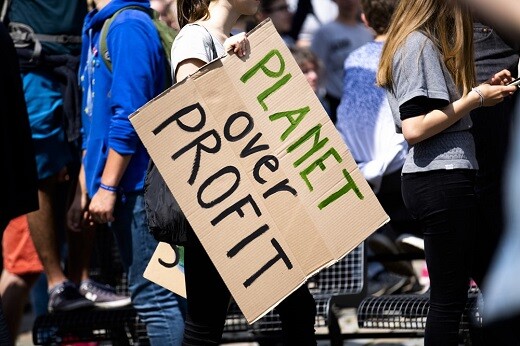 Within our team are some highly experienced recruiters who are able to provide tailor-made recruitment. Do you want to know more about our services? Our recruiters from The Sustainable Recruiter are happy to help you!